Adversity to Opportunity Presented by Sahar Andrade
Adversity to Opportunity Presented by Sahar Andrade
Wednesday, June 23, 2021 (12:00 PM - 1:00 PM) (EDT)
Description
Fear Whisperer
Being fearless never meant lack of fear, it means acting despite your fear. This has been Sahar's life story. She made fear her friend and that opened up a window to the future. She used adversities as the stepping stones to propel her to success.
Key Take Away Points:
Look for the lesson to learn in every situation
Turn fear into positive energy
Know your strength and core identity
Meet Sahar Andrade, MB.BCh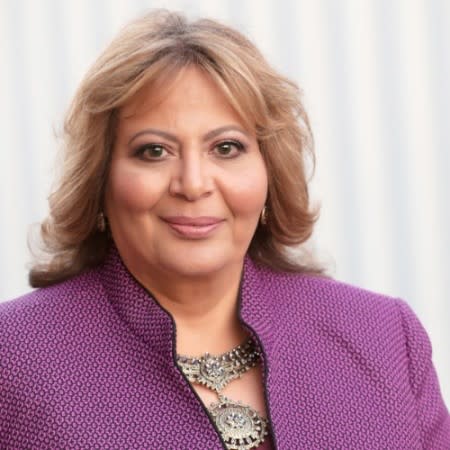 Sahar Andrade, MB.Bch, is a Diversity, Global Leadership & Culture Competence Speaker/Consultant, certified as as E-Marketer and Social Media Strategist. She has lived , worked and been educated in 7 countries: she speaks 5 languages: English, French, Spanish, Arabic and conversational Hebrew. She hold a Double Bachelors of Medicine and Surgery, Minor in Psychiatry from Cairo University but never practiced medicine. and she successfully completed a Mastery of HR Studies Certificate Program.
Social Media Links
Instagram: @saharthereinventcoach
LinkedIn: Sahar Andrade
Facebook: https://www.facebook.com/SaharConsultingLLC
Twitter: @saharconsulting
Twitter: @ReinventYurself
TEDTALK: https://www.youtube.com/watch?v=ZbOS_NYfHts&t=34s
Website: www.saharconsulting.com
Website: www.reinventyourselftogreatness.com
Previous speaking engagements:
TEDTALK speaker
SUETALK Speaker
---
"REAL WOMEN REAL STORIES" MONTHLY SPEAKER SERIES
Wed. July 28th | Speaker: Jennifer Benz All presentations take place at Noon
Restaurant Owner - Dick and Jenny's; New Orleans and Grand Island, NY
Wed. Aug. 25th | Speaker: Dr. Davina Moss-King
Founder and President of Positive Direction and Associates, Inc. ,Trained Perinatal Mental Health Counselor, Certified Rehabilitation Counselor, National Certified and Credentialed Alcohol and Substance Abuse Counselor. Author of " Unresolved Grief and Loss Issues Related to Heroin Recovery"
Wed. Sept 15th | Speaker: Kristy Daniels Jackson
Wed. Oct. 27th | Speaker: Carol Malek

Pricing
NO CHARGE for SheCAN! Members
GUESTS PAY $ 10.00
Click >> here to learn about SheCAN! Membership


Via Zoom

Wednesday, June 23, 2021 (12:00 PM - 1:00 PM) (EDT)
Categories
All Events
Virtual Events