Incorporate Healthy Habits into Your Day
Incorporate Healthy Habits into Your Day
Wednesday, July 7, 2021 (8:00 AM - 9:00 AM) (EDT)
Description
Incorporating the process of STOP AND FLOW moving meditation into your daily routine will help you live an authentic and enjoyable life. . This process includes the elements of cognitive, energetic and embodied actions.
Key Take Away Points:
Discover a way to fast, fun, and enjoyable way to reduce your own stress, pain, cravings.

Personally experience embodied self being Self.

Transpersonal power of community moving in unity.
Meet Kristin Onderdonk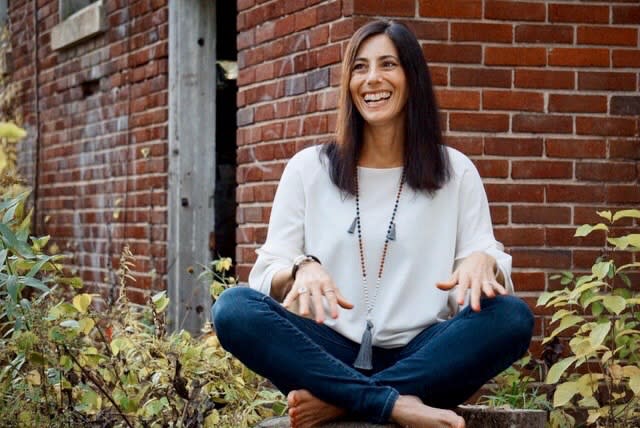 Kristin Onderdonk, owner Enjoy Chi, LLC, is a motivational movement coach, public speaker, published author, and top leader in organic wellness here in the U.S. She is the creator of STOP AND FLOW, an embodiment process including mindfulness, meditation, and authentic natural movement. The process is inspired by several energetic techniques such as reiki, prayer, E.F.T. a.k.a "tapping", tai chi and qigong. Kristin is an expert in helping to facilitate extraordinary recovery in addiction and related trauma through her innovative, embodiment process, STOP AND FLOW. Before discovering her passion for recovery work, she worked for over twenty years as a Certified Public Accountant with Price Waterhouse Coopers. She has worked with and supported thousands of clients, patients and staff, in person and online, from all over the world. Kristin lives in Syracuse, NY with her husband, two youngest daughters, and dog named Crew. She is also parent to three amazing adult children, daughter, sister and friend to her very large extended Italian family.
Kristin's mission is to discover ways to enjoy life and help others do the same.
It is her intention to connect and reconnect humans to compassion and unconditional love, starting with what she refers to as "embodied self being self".
Personally and trans-personally she seeks to create community and relationships that significantly raise the vibe of our world reality back to love.
Social Media Links:
Facebook: https://www.facebook.com/kristin.onderdonk
Facebook: https://www.facebook.com/enjoychi
Instagram: https://www.instagram.com/enjoychi_/
Website: www.enjoychi.com
Previous speaking engagements:
SUNY Cortland Recreation

Therapist Annual Conference

Crouse Health Chemical Dependency Treatment Center

Brass Rings Consulting

Sober and Unashamed -Shout Sobriety Event

Neal's Yard Remedies Organic National Conference
---
All presentations begin at 8 AM.
Wed. Aug. 4th | Let's Meditate | TBD
Wed. Sept. 1st | Finding Motivation | Chris Reeb
Owner, Nutrition Concepts
Wed. Oct. 6th | Women's Health Issues |Kathleen Maxian
Wed. Nov. 3rd | Disconnect From Technology | TBA







Pricing
NO CHARGE for SheCAN! Members
$ 10.00 for Guests
Click >> here to learn about SheCAN! Membership
Via Zoom Video Conference

Wednesday, July 7, 2021 (8:00 AM - 9:00 AM) (EDT)
Categories
All Events
Virtual Events